Penzance OnLine
Weather in Penzance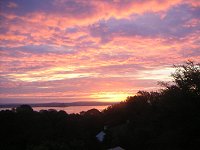 From its location at the centre of the Land's End peninsula, Penzance is almost surrounded by the sea. This, together with the landfall on the peninsula of the mild air generated by the Gulf Stream crossing the Atlantic Ocean, provides a moderating effect on the climate, protecting the area from the extremes of temperature that are experienced in the remainder of England - even in the remainder of Cornwall.
Consequently, the annual average temperatures are higher than elsewhere and, in particular, the winters are much milder. Summer weather is often warmer - these temperatures arrive earlier in the Spring and continue later into the Autumn. Winters are generally frost-free and snow is almost unknown.
As a direct result of the mild climate, Spring flowers arrive weeks - even months - earlier than in the rest of the country. Local daffodils are in flower before Christmas while delicate plants and garden shrubs happily survive outdoors unaided!
Commercial produce - flowers, horticultural and agricultural - all arrive early in the year, contributing both to the colourful appearance of the local environment and to the local economy.
Click for

Penzance forecast

Click for
Penzance tide times

For more information on weather conditions in Penzance