Penzance Accommodation
Self-Catering Accommodation east of Penzance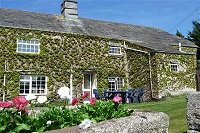 Numerous self-catering cottages, houses and apartments are available to the east of Penzance from Marazion towards Helston in villages, rural and coastal locations, all well-equipped for holidays for couples or a larger family group.
Select your preferred location and dates in the Availability checker to find Online Bookable accommodation.
IMPORTANT NOTE: During the current COVID-19 outbreak, properties are liable to be temporarily closed or unable to take bookings. However, for future dates, use of the Availability Checker will still permit up-to-date information to be found and bookings to be made. Full details of those properties and their procedures can be found on the providers' websites.
Clickable link to Location Map
Online Booking available
Member of Penzance Chamber of Commerce
Featured Accommodation
Relubbus, Penzance. Phone: 01736-763398
Tresowes Hill, Ashton, Helston. Phone: 01736-763074
Feliskirk Lane, Marazion, Penzance. Phone: 01736-710634
West End, Marazion, Penzance. Phone: 01736-710100
Gwallon Lane, Marazion, Penzance. Phone: 01736-710605
Other Accommodation
Nancledra & Newmill

Boskednan Wartha - Self-Catering Holiday Home

Boskednan, Newmill, Penzance. Phone: 01736-333873

Chypons Farm - Self Catering & B&B

Chypons Farm, Nancledra, Penzance. Phone: 01736-740303

Higher Chellew - Self Catering, Camping & Caravan Park

Higher Chellew, Nancledra, Penzance. Phone: 01736-364532

Laidback Trailblazers - Self Catering

The Old Barn, Bosuval, Newmill, Penzance. Phone: 01736-367742

Gulval & Ludgvan

16 Old Court Cottages - Self Catering

16 Old Court Cottages, Kenegie Park, Gulval, Penzance. Phone: 01449-760774

30 Old Court Cottages - Self Catering

30 Old Court Cottages, Kenegie Park, Gulval, Penzance. Phone: 01503-250570

33 Park Bungalows - Self Catering

33 Park Bungalows, Kenegie Manor, Gulval, Penzance. Phone: 01522-868050

36 Old Court Cottages - Self Catering

36 Old Court Cottages, Kenegie Park, Gulval, Penzance. Phone: 01902-845139

44 Old Court Cottages - Self Catering

44 Old Court Cottages, Kenegie Manor, Gulval, Penzance. Phone: 01902-566876

8 Old Court Cottages - Self Catering

8 Old Court Cottages, Kenegie Park, Gulval, Penzance. Phone: 01736-360976

9 Old Court Cottages - Self Catering

9 Old Court Cottages, Kenegie Park, Gulval, Penzance. Phone: 01354-638282

Bal Farm Cottages - Self Catering

Tremmin, Gulval, Penzance. Phone: 01736-366254

Barn Cottage - Self Catering

2 Old Barnyard, Kenegie Manor, Gulval, Penzance. Phone: 01952-415349

Bay View Barn - Self Catering

Ludgvan, Penzance. Phone: 01483-884111

Fingers Point Luxury Retreat - Self Catering Converted Barn

Fingers Point, Lower Trenowin, Ludgvan, Penzance. Phone: 01736-740733

Green Pig Farm - Farm Tea Room & Cottages

Castle Gate, Ludgvan, Penzance. Phone: 07866-561757

Hilton Holidays - Self Catering

21 Old Court Cottages, Kenegie Manor, Gulval, Penzance. Phone: 0161-799-4387

Kenegie Manor - Holiday Park

Gulval Hill, Gulval, Penzance. Phone: 0800-043-6449

Millstream - Self Catering

10 Ridgevale Close, Gulval, Penzance. Phone: 01736-351848

Mount View Cottage - Self Catering

Ludgvan, Penzance. Phone: 01736-711425

Nanceddan Farm - Self Catering

Ludgvan, Penzance. Phone: 01736-740165

Old Court Cottages - Self Catering

Old Court Cottages, Kenegie Park, Gulval, Penzance. Phone: 01736-350520

The Old Primary School - Self-Catering

Ludgvan, Penzance. Phone: 01736-741309

Rosemorran - Self Catering

Shirwill, Gulval, Penzance. Phone: 01736-361479

Sunset Properties - Self Catering

Keneggy Park, Gulval, Penzance. Phone: 01736-788698

Long Rock & Crowlas

Cuckoo Cottage - Self Catering

Crowlas, Penzance. Phone: 01732-862064

Little Barn Cottages - Self-Catering Complex

Hillside, Blowing House Lane, Crowlas, Penzance. Phone: 01736-741479

Rosevidney Manor Country Cottages - Self-Catering Complex

Rosevidney Manor, Tredrea Lane, Crowlas, Penzance. Phone: 07985-324044

Marazion

Arizona - Self Catering

Marazion, Penzance. Phone: 01736-710222

Castle View - Self Catering

Castle Nook, Marazion, Penzance. Phone: 01736-710820

Chy Lowenna - Self-Catering Cottage

Fore Street, Marazion, Penzance. Phone: 01736-449065

Deveral Cottage - Self Catering

Turnpike Hill, Marazion, Penzance. Phone: 01373-834595

The Engine House - Self Catering

Tregurtha Downs, Plain-an-Gwarry, Marazion, Penzance. Phone: 01736-711604

Gillan Cottage - Self Catering

School Lane, Marazion, Penzance. Phone: 07710-252583

Jowders Cottage - Self-Catering Cottage

Philips Court, Fore Street, Marazion, Penzance. Phone: 01736-449065

Krissie's Apartments - Self-catering

Marazion Bypass Nursery, Marazion, Penzance. Phone: 01736-710701

Marazion House & Flat - Self Catering

Marazion, Penzance. Phone: 01736-710254

Mounts Bay House - Self Catering

Turnpike Hill, Marazion, Penzance. Phone: 01736-711040

Polgew House - Self Catering

Godolphin Terrace, Marazion, Penzance. Phone: 01209-831740

Tregew Vean - Self Catering

2 Bungalow Flats, Marazion, Penzance. Phone: 01736-710247

Tuscany - Self Catering

Marazion, Penzance. Phone: 01736-710222

The White House - Self Catering

Marazion, Penzance. Phone: 01736-710424

Zennor Cottage - Self-Catering

Beacon Road, Marazion, Penzance. Phone: 01736-711452

Rosudgeon, Perranuthnoe & Goldsithney

Broom Farm Cottage - Self Catering

Rosudgeon, Penzance. Phone: 01736-763738

Bryant Holiday Homes - Self Catering

North Road, Goldsithney, Penzance. Phone: 01736-719490

Cedars Chalets - Self Catering

Perranuthnoe, Penzance. Phone: 01736-711375

Ennys - Guest House & Self Catering

Trewhella Lane, St Hilary, Penzance. Phone: 01736-740262

Perranuthnoe Cottages - Self Catering

Perranuthnoe, Penzance. Phone: 07071-225064

Prussia Cove Cottages - Self Catering

Higher Keneggy Farm, Rosudgeon, Penzance. Phone: 01736-762014

St Pirans Cottages - Self Catering

Perranuthnoe, Penzance. Phone: 01962-774379

Trevean Farm Cottage - Self Catering

Trevean Farm, Rosudgeon, Penzance. Phone: 01736-762340

The Vineyard - Self Catering

Perranuthnoe, Penzance. Phone: 01736-710547

Withey Cottage - Self-Catering

Perranuthnoe, Penzance. Phone: 01736-762488

Praa Sands, Germoe & Ashton

Bos Verbas Camping and Caravanning - 'Glamping', Touring Caravan, & Self-Catering Park

Helston Road, Praa Sands, Penzance. Phone: 07787-390269

Chycarne Farm Cottages - Self-Catering Complex

Chycarne Farm, Bal West, Ashton, Penzance. Phone: 01872-264441

Rooks Wood - Self Catering

Germoe, Penzance. Phone: 01736-366883

Seameads Holiday Homes - Self Catering Complex

Seameads Lodge, Sea Meads Estate, Praa Sands, Penzance. Phone: 01736-762335

Trelil House - Self Catering

Ashton, Penzance. Phone: 01736-762380

Villa Comino - Self Catering

Praa Sands, Penzance. Phone: 01483-534831

Breage, Porthleven & Helston

2 Cobbled Ope - Self-Catering Cottage

2 Cobbled Ope, Coinagehall Street, Helston. Phone: 01647-433593