The Town of Penzance
Antiquities in West Cornwall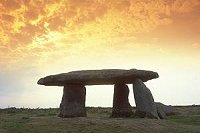 On the moorland surrounding Penzance, there are numerous pre-historic, Neolithic and Bronze Age tombs, monuments and settlements - some dating from over 5,000 years ago. Few districts can equal the number of such ancient sites worthy of a visit and all can be reached easily from Penzance.
These include:-
Lanyon Quoit - Chamber tomb. Adjacent east side of Penzance-Madron-Morvah road.
Men-An-Tol - Holed stone. Along a track on east side of Penzance-Madron-Morvah road.
Chun Castle - Iron Age hill fort. West of Penzance-Madron-Morvah road. Double embanked ramparts, well and Chun Quoit nearby. Excellent scenic view point.
Trencrom Hill - Second century BC rampart. Hut circles and well. 'Giant' legends. Excellent scenic viewpoint. North-east of Penzance, off B3311 St.Ives-Penzance road.
Gurnard's Head - Cliff castle (marked as Trereen Dinas). Path from Gurnard's Head coastguard station near hotel on B3306.
Chysauster Settlement - Courtyard houses, a fougou and field system. Footpath from Badger's Cross to Newmill road.
Carn Euny - Hut circles and splendid fougou. Signposted from Drift on A30 west of Penzance.
Merry Maidens - Circle of nineteen standing stones just south of B3315 about one mile west of Lamorna valley.
Madron Baptistry - Wishing well, roofless Norman chapel, baptistry and altar slab. The well is accredited with curative powers. Signposted on the Penzance-Madron-Morvah road.