The Town of Penzance
Visual Arts
Today a considerable number of artists and craftspeople live and work in Penwith, contributing in large measure to its vibrant and stimulating atmosphere. The continuing presence of the Leach Pottery, the opening of the Barbara Hepworth Museum and the Tate Gallery, St Ives (1993), the impending expansion and redevelopment of the century-old Newlyn Art Gallery (built in 1895 by John Passmore Edwards for the Newlyn artists) and the re-developed Penlee House Gallery and Museum in Penlee Park, bear witness to the importance of, and continuing interest in, the Visual arts in West Cornwall.
Current initiatives to develop archives and study centres for arts-related material will ensure research facilities for future generations. The richness and diversity of the local artistic heritage combines with exciting contemporary initiatives to provide a resource facility of excellence. Educational projects< related to galleries, museums and libraries abound. Newlyn Art Gallery and Tate St Ives encourage active participation from a broad spectrum of educational organisations, community groups and individuals. Students of all ages and abilities engage with working artists and craftspeople in clubs, classes and workshops in a variety of media including drawing, painting and printing, three-dimensional areas, textiles, photography, video and multimedia.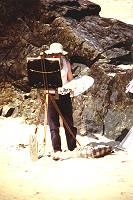 The Artshare programme takes art into local schools and the breadth and quality of art produced evidences the talent and commitment of the teaching staff and their relationship with the community.
The outstanding resources of Penzance and Penwith are increasingly being recognised by cinema and television filmmakers both at home and abroad. Penzance has long had connections with creative art in cinema and film. Local engineers contributed in the development of the electric arc lamp which, in about 1900, came into wide use for the projection of film and thereby hastening the success of this medium.
A social documentary made by an independent group in Penwith, and recently screened by Channel 4 television, won a special Jury Award in the 1995 Celtic Film Festival - a first for Cornwall. An internationally renowned animator with industry awards from around the world has recently established her studio in Penzance and a number of companies and individuals working in corporate and broadcast film and video are based in the District.
The Cornwall Video Resource Centre is located close to Penzance. Funded by Cornwall County Council, Southwest Arts and Channel 4 Television, it encourages use of its equipment and editing facilities by all those who are interested and offers special rates to students.