The Town of Penzance
Pendeen & Trewellard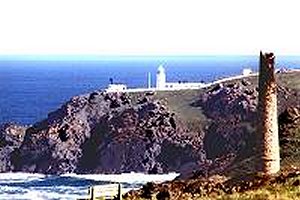 Pendeen lies on the dramatic north coast of the land's End peninsula. It is a famous tin mining area where the last working mine of Geevor finally ceased production in 1990.
The spirit, the atmosphere and the powerful images of this mining coast remain intact and make the area a treasure house of industrial archaeology and cornish History.
The moorland hills of the Land's End peninsula boasts a remarkable concentration of Bronze and Iron Age relics dating from 4,000BC. Several of these are in the Pendeen area.
Interesting sites include Pendeen Lighthouse, the 16th Century Pendeen Manor Farm, Levant Engine House and Geevor Mine Museum.
Pendeen has excellent village shops, attractive pubs and other services.