Tourism in Penzance & West Cornwall
Tin Mines of West Cornwall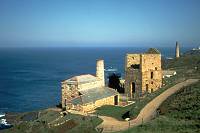 While tin mining took place all over Cornwall, one of the most productive areas was on the North Coast in the vicinity of St Just - a few miles north of Lands End. All over the landscape can be seen the ruined engine houses, which once powered these mines. One of the most famous of these was the Levant Mine at Pendeen where the tunnels and mine workings ran far out beneath the sea. It was said that miners working these remote sections of the mine could actually hear the sound of stones and rocks being moved by the action of the tide on the sea-bed above them!
The mine was worked from the early 19th Century until its closure in 1930 following a tragic accident some years earlier in which the "man engine" used to allow the miners to move up and down the shaft collapsed resulting in a great loss of life.
Recently, the engine house and the steam engine it contained have been restored and the engine can be seen operating on some days throughout the summer months.
Closeby is Geevor Mine - the last working mine in the far west of Cornwall - which closed in 1990 as a result of the mine operations finally becoming uneconomic. The Geevor site contains a Mining Museum illustrating many of the aspects of operation of this vital part of Cornwall's heritage. Underground tours of some sections of the mine are available to visitors to the Museum.