Tourism in Penzance & West Cornwall
Antiquities - The Spirit of West Cornwall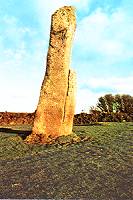 The West Cornwall landscape from Penzance to Lands End and the North Coast beyond has a history going back to the Stone Age. This area was widely settled during the Neolithic, Bronze and Iron Age periods. Scattered over the lonely moorland are pre-historic village and settlement sites, some of which - like those at Chysauster and Carn Euny - have been fully explored and excavated and, under protection of English Heritage, can be visited.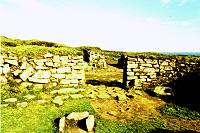 Chysauster, located just a couple of miles north of Penzance, in particular is an excellent example of a late Iron Age village site which is thought to have been occupied right up to the time of the Roman occupation of Britain. The basic house layouts can been seen as outline of the lower parts of the walls while the postholes - where the main support for the circular thatched roofs was set - can be clearly identified. The remains of a "fogou" can be seen, this being an underground storage chamber believed to be used for holding grain and housing cattle. A superb example of this type of construction can be seen at Carn Euny, near the village of Sancreed to the west of Penzance.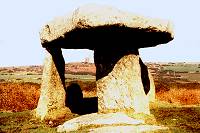 There are several "quoits" or burial chambers which can easily be visited, of which the easiest and most well known is Lanyon Quoit just to the west of Madron, on the outskirts of Penzance. These quoits were granite constructions with a large single piece of granite as a cap-stone and were generally covered with soil or otherwise buried in the ground - those which can be seen have had all, or most, of the surface material removed.
On many of the higher points of land there are the remains of hill forts, such as that at Chun Castle, near to Morvah on the North Coast. These were usually circular constructions with ditch and rampart defences and usually contained a village or other permanent settlement.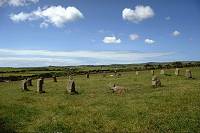 Amongst the most well known features in this rich area is the Merry Maidens stone circle just outside Lamorna which, along with a single standing stone in an adjacent field, is the legendary result of young village maidens and their piper being turned into stone for dancing on a Sunday!
Another well known example is the Men-an-Tol - a "holed" stone set with two adjacent stones in a line - which is the source of several interesting local legends. This is located on the moors a little way off the road between Madron and Morvah, and about a mile from Lanyon Quoit.