Tourism in Penzance & West Cornwall
Minack Theatre, Porthcurno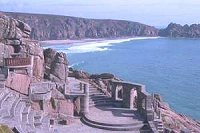 A Roman style open air amphitheatre clinging to the granite cliffs above the beach at Porthcurno, the remarkable Minack Theatre was constructed in the 1930s - as a hobby project - by the late Miss Rowena Cade who lived in the large house just behind the theatre.
While the theatre began in this very limited manner, it has developed over the years since its inception into a world-famous venue and a summer season of plays and musical entertainment is held every year from the end of May until late September. The programme includes a wide variety of productions - straight plays, comedies & musicals - ranging from Shakespeare to Gilbert & Sullivan as well as modern productions, with performances on weekdays (Mondays to Fridays evenings and some Matinees), with a change of programme and production company weekly. Few holiday experiences can equal the atmosphere of an evening performance with the sea and moon as the backcloth. The full programme for the current year is now available.
While performances are not taking place, this unique Theatre - and its adjacent Visitor Centre which tells of the history and development of the Theatre - can usually be visited at a small charge. Sometimes rehearsals for the forthcoming performance can be seen during these visits allowing a 'sneak preview' of the next show!



The Minack Theatre - Theatre
Porthcurno, Penzance. Phone: 01736-810181
Clickable link to Location Map