Tourism in Penzance & West Cornwall
Land's End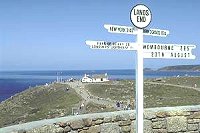 Land's End, approximately nine miles west of Penzance, is the most westerly point of the English mainland and the closest to the North American continent. Looking out to sea from here allows the mind to appreciate the scale of the Atlantic Ocean, seeming to stretch beyond the horizon for ever. The granite cliffs, which make up the coastline of West Cornwall, are seen at their best here where the combination of the power of the sea and the strength of the cliffs reduce man to a mere spectator of nature. On a clear day, the Isles of Scilly can be seen lying just on that horizon - a group of small, yet very beautiful, islands of which five are inhabited while the remainder of nearly 100 are given over to sea birds! Closer to shore is the Longships Lighthouse, just over a mile out to sea, while in the distance, about six miles to the south-west, can be seen the Wolf Rock lighthouse.
The Land's End Centre is a tourist complex which features the history and heritage of Cornwall and Land's End, with particular emphasis on ships and the sea, and the hazards which they have always faced. There are play areas for the children, a suspension bridge, ships and helicopters to be seen. The centrepiece of these attractions is the Multi-Sensory Audio-Visual extravaganza of The Last Labyrinth, extending from the legends of King Arthur and the Lost Land of Lyonesse to the bravery of the Air-Sea rescue helicopter service - truly, an experience never to be forgotten.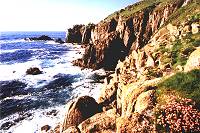 Meeting at Land's End are the Northern and Southern sections of Cornish Coastal Footpath, the centrepiece of the longest continuous footpath in Britain covering the coast from Poole Harbour and Dorset to Somerset and the Bristol Channel - over 500 miles in all! Some of the most dramatic and spectacular sections of this walking challenge are to be found near to Land's End. While the path is a safe and enjoyable walkway, care must always be taken as some sections are close to the cliff-edge and this is no place for the foolhardy!
But for those who wish to 'get away from it all', the Land's End complex can soon be left behind as the moors and the cliffs are ever present close around. A short walk over the cliffs northwards brings the visitor to Sennen Cove, a wide sandy beach backed by sand dunes, where the strong Atlantic breakers make it very popular for surfing.