Tourism in Penzance & West Cornwall
St Michael's Mount, Marazion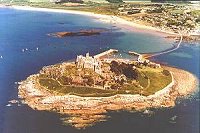 St Michael's Mount is located some 3 miles east of Penzance and is one of the treasures of Cornwall. Set on an island a few hundred yards off-shore from the ancient town of Marazion and in the heart of Mounts Bay, the castle - now maintained by the National Trust - has for centuries been the home of the St Aubyn family. Originally, the building was a Benedictine Priory which had religious links with the equally famous Mont St Michel in Normandy, France.
Subsequently, it became a fortified castle which saw action during the English Civil War and today still has a battery of cannon.
The island served as a major port in earlier times and is thought to be the island of Ictis which was the centre for the export of Cornish tin and copper to the Greeks and Romans in pre-historic times. Today, the Island and Castle are open to the public every weekday and most weekends during the summer and on a limited basis during the winter.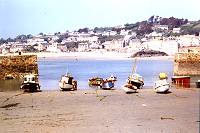 There is an attractive little harbour with some shops and the Sail Loft Restaurant.
While access to the island is easy at low tide when the granite causeway is opened for pedestrian crossings, there are ferry boat services running at high tide during the summer.