The Town of Penzance
Towns & Villages of West Cornwall
Penzance is the centre of residential and commercial life in the Lands End peninsula and is surrounded by a number of smaller towns and villages. Each of these has its own identity and character and contributes to the economy of the area.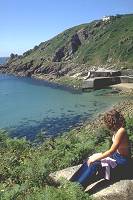 Ancient fishing villages, cliff-top walks, sub-tropical vegetation and a wealth of industrial and maritime heritage combine with early Christian history and Celtic legend to make the district surrounding Penzance a fascinating area.
The coastline of coves and caves, the area's history of smugglers and wreckers and its long tradition of music and song, inspired Gilbert and Sullivan to name one of the most famous of their productions - "The Pirates of Penzance".
Important amongst these towns and villages are:-