Sport in Penzance
Other Sports
Netball
Penzance Netball Club is amongst the largest in the county. The club has five senior league teams playing regularly in the Cornwall County Netball League.
Volleyball
There is a number of Volleyball clubs who compete within two leagues. The Winter League runs from October until April. During the summer season a number of clubs hold beach tournaments and play against teams from Bristol University, Speedwell, Wessex, Taunton and Bath.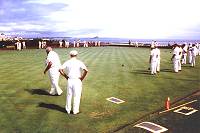 Bowls
There is a bowls club with facilities on Penzance Promenade and the sport has an enthusiastic local following.
Flying
The local airfield at nearby St Just offers tuition in powered Flying and has a thriving and successful flying club.
Other Sports
Numerous other both individual and team sports are available in the area with many clubs and organisations. Facilities also are available for individual activities, particularly water-sports at all the major beaches.
More information on various other sports can be obtained from:-
Association of British Riding Schools - Sports Clubs

38-40 Queen Street, Penzance. Phone: 01736-369440

Mounts Bay Badminton Club - Sports Club

Penwith College, St Clare Street, Penzance. Phone: 01736-330954

Mounts Bay Health Studio - Health & fitness studio

Queens Hotel, The Promenade, Penzance. Phone: 01736-369460

Newlyn Judo Club - Judo

c/o Penzance Sea Cadets, Jennings Street, Penzance. Phone: 0782-551-6256

Penzance Aikido Club - Sports Club

Penzance. Phone: 01736-719118

Penzance Gym Club - Sports Club

Penzance Leisure Centre, St Clare, Penzance. Phone: 01736-350409

Penzance Judo Club - Sports Club

Penzance. Phone: 01736-710464

Penzance Ju-Jitsu Club - Sports Club

The Warehouse Studio, Bread Street, Penzance. Phone: 01736-350735

Penzance Leisure Centre - Leisure Centre

St Clare, Penzance. Phone: 01736-874744

Sports Q Leisure - Snooker Hall

25-26 Market Place, Penzance. Phone: 01736-365637

Touch Gloves Muay Thai Kickboxing - Sports Club

Branwells Mill, Station Road, Penzance. Phone: 07974-333489

Yamashiro Kai Shotokan Karate Club - Sports Club

4 Princes Street, Penzance. Phone: 01736-331847

MayoShinDo Karate - Non-competitive martial art

Marazion School, School Lane, Marazion, Penzance. Phone: 01209-716656

Mounts Bay Harriers Running Club - Running Club

Mounts Bay Community Sports College, Heamoor, Penzance. Phone: 01736-352323

Penzance Athletics Club - Athletics Club

Mounts Bay Community Sports College, Heamoor, Penzance. Phone: 01736-352323

YogaFlame UK - Hot Yoga Fitness classes

Newlyn, Penzance. Phone: 0780-501-0962

St Ives Leisure Centre - Leisure Centre

Trenwith Burrows, St Ives. Phone: 01736-797006