Sport in Penzance
Scuba Diving
Mount's Bay has become the ideal training area for scuba diving activities. Water conditions are now cleaner and clearer than for many years. Depths range from 0-27m with a gentle current of approximately half a knot. The south coast provides an even better diving area than the north.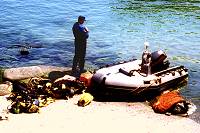 The best training area is in nearby Lamorna Cove where novice divers are taught in safety. Many organisations including the Universities of Exeter, Bristol, South Wales and Imperial College, London already come to the district for their annual diving activities. During the summer months some 26 sub-aqua clubs from counties all over the country come to Penzance for diving holidays.
The most spectacular of local diving sites is the area around the Runnel Stone which has at its base the wreckage of two steamships, and supports huge populations of ling, bass, pollock and conger eels, with excellent visibility down to its seaward base of 52 metres.
Penzance is also the 'spring board' for diving in the Scillies where the visibility is superb. The Albert Pier in Penzance is the headquarters of the Penzance Branch of the British Sub-Aqua Club. Diving air is available.
More information on diving can be obtained from:-
Penzance Diving Club - Diving Club

Albert Pier, Penzance.. Phone: 01736-365226